Posted by Rugs Express; Australia's Number One Online Rugs Retailer on 14th Jun 2022
Considerations To Make For A Living Room Rug
Read this guide to learn about rug materials and styles for a fully informed choice.
It's the foundation of your home décor, and yet finding the perfect rug can feel like a daunting task. When it comes to rug shopping, your living room is like a puzzle waiting to be solved. There are endless options to choose from, and sometimes it feels like no matter what you pick, it's missing that je ne sais quoi…
But don't you worry: like with every problem, the best thing to do is to break it up into smaller steps. By understanding what are the essential aspects to consider before choosing a rug for your living room, you will have the best knowledge to make the right choice.
We will go through these 4 essential considerations: size, material, style and budget; which will help you decide what kind of rug you're looking for. And once you've narrowed down your options, it's time to start shopping around with total peace of mind, as you'll know what you want!
So relax, sit tight and let's get started!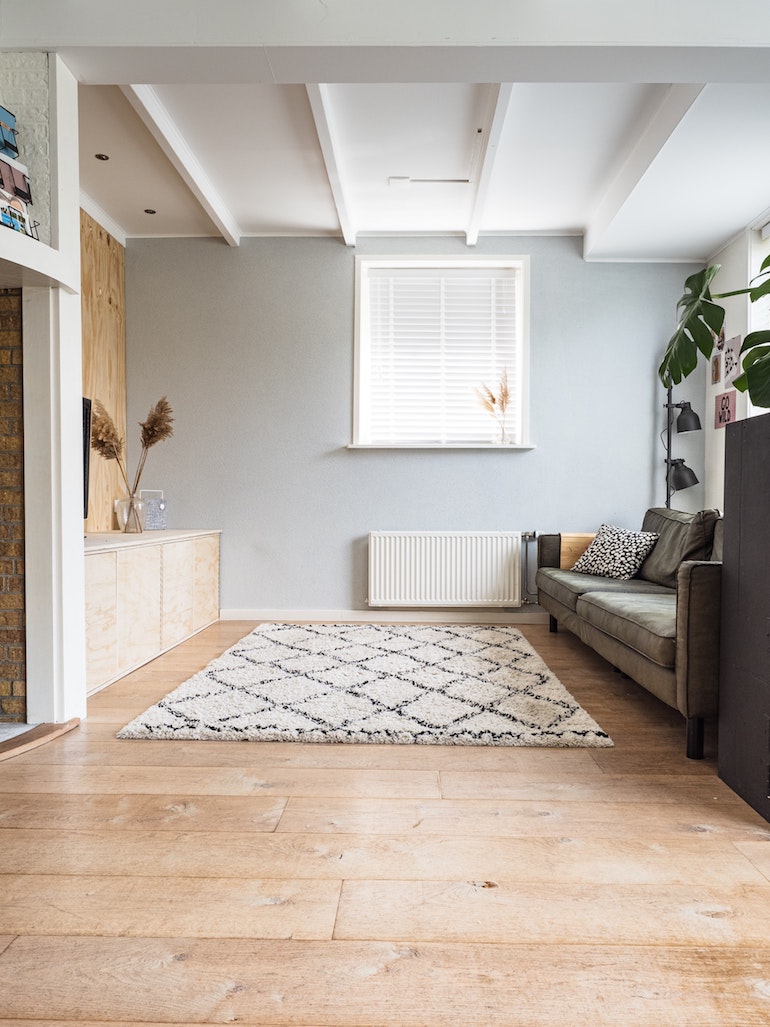 1. Rug Shape And Size
Choosing the shape
Start by thinking about the shape of the rug. While most living rooms have rectangular or square floor plans, there are plenty of other rug styles out there to consider – round rugs, for example, can make a wonderfully unique statement in any space. When choosing a shape for a rug, there are a variety of considerations to keep in mind. For instance, round rugs are typically best suited for smaller spaces, as they can help to highlight specific features or draw attention to certain focal points in the room. On the other hand, rectangular rugs can work well in larger areas, as their horizontal design helps to unify and anchor large spaces.
Each rug shape has its own advantages and drawbacks, so it's important to think about how you want to use your rug and what kind of look you are trying to achieve. For example, a round rug is great for creating a specific focal point in a living room or a bedroom but can be less practical if you're looking to fit multiple pieces of furniture on top of it. On the other hand, a rectangular rug can provide plenty of space for large furniture items while also being more inclusive of the rest of the interiors and upholstery. Ultimately, the right rug shape is all about finding the right balance between form and function, so take some time to think carefully about which option is right for you. Personally, I think round rugs are perfect for the bathroom and for specific small spaces and corners that would be overlooked otherwise: for instance, you could place a cosy, woolround rug in front of your favourite armchair. On the other hand, rectangular rugs are perfect as area rugs.
Choosing the size
Next, think about the size of rug you want and how it will fit in visually within your layout. Do you want something that covers most or all of your floor? Or do you prefer an accent piece that retains some open space in the room?
The size of the rug is an important consideration when purchasing a new rug. The rug should be large enough to fit in the desired space, but still leave enough room to walk around comfortably. A way to determine the size of the rug is to measure the length and width of the room and subtract about 60 cm from each measurement. This will ensure that the rug is not too small or too big for the space. When measuring for a new rug, be sure to take into account the furniture in the room and whether or not the rug will need to be positioned under a bed or other piece of furniture. By taking these factors into consideration, you can be sure to purchase a rug that is the perfect size for your home.
Because the wrong size is one of the most common causes of returns, I suggest you also read these very useful blog posts about precious Rug Sizing Tips!
Once you've decided on shape and size, the next step is to move on to the rug material. Knowing the different materials available, it is a money-saving hack, because you can then decide which fibre will fit your home the best. Especially if you need to consider factors such as owning a pet ( Choosing A Pet-Friendly Rug) or cleaning (Will My Rug Shed?)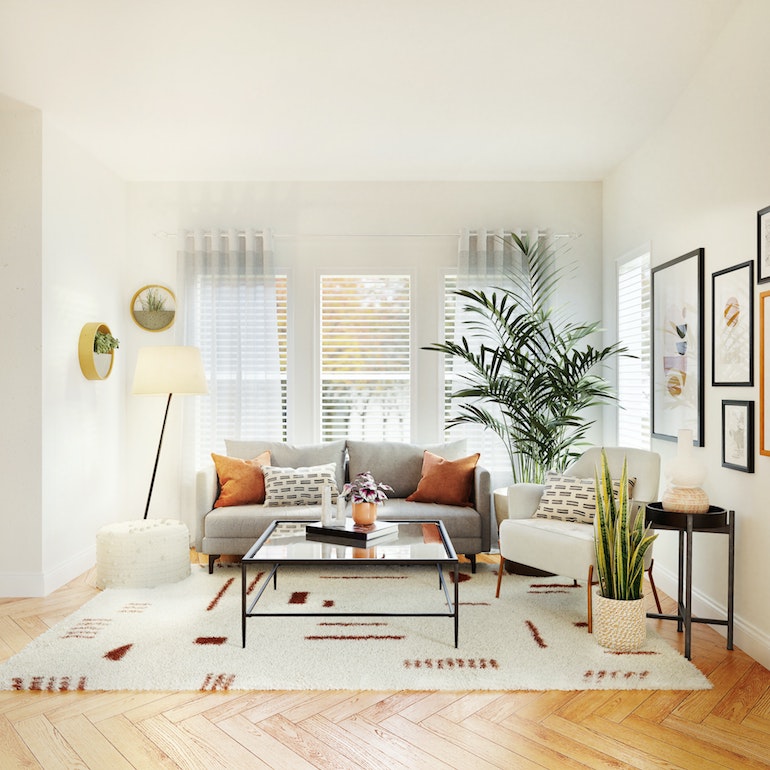 2. Rug Material
When choosing a rug, not only size and shape are important, but you also need the right material to meet your specific needs. Each type of rug material has its own set of pros and cons, so it's important to familiarise yourself with all of your options before making a decision.
Here is a quick rundown of some of the most popular types of rug materials:
Wool is a natural fibre that has been used for centuries to create warm, durable rugs. Wool rugs are traditionally handwoven, hand-tufted, hand-knotted, or hand-loomed, which means that they require extensive craftsmanship and attention to detail. However, these high-quality rugs are well worth the investment, as they offer superior comfort, durability, and style.
There are many benefits to owning a wool rug. For one, they're extremely durable and can last for years with proper care. Wool is also naturally soil-resistant, making it ideal for high-traffic areas like entryways and living rooms. In addition, wool rugs are hypoallergenic and safe for children and pets. But perhaps the best thing about wool rugs is that they're just so darn cosy. There's nothing like sinking your toes into a soft, plush rug on a cold winter day. So if you're looking for a rug that's both stylish and functional, consider investing in a wool rug. You won't be disappointed.
Silk has been used in clothing and other textile products for centuries, prized for its softness, strength, and shimmering appearance. Silk rugs are no exception, offering a level of luxury and sophistication that is unmatched by other fibre types. Silk rugs are often thin and fine, with a lustrous sheen that enhances the colours and patterns of the rug.
However, silk rugs are also incredibly delicate, making them best suited for low-traffic areas. Silk rugs can be difficult to clean, so be sure to vacuum regularly and spot clean spills immediately. With proper care, a silk rug can last for many years, providing a beautiful and elegant foundation for your home décor.
Cotton rugs are an excellent choice for those looking for a fun and playful rug that is also budget-friendly. These rugs are made from soft, cotton materials, making them extremely comfortable underfoot and great for lounging on. Cotton rugs are also ideal if your living room is used as an everyday casual space, where you need something that can easily stand up to regular wear and tear. And because they are so affordable compared to more luxurious rug materials like wool or silk, you can feel free to change up your style on a regular basis without worrying too much about the budget.
Jute is a versatile and naturally beautiful material that is perfect for adding a coastal vibe to any indoor space. These rugs are a nice choice for rooms that need some texture, and they are also quite economical, making them the perfect choice for areas where you need a big rug but are on a budget. What's more, jute rugs look great when layered under smaller, patterned rugs, giving your room a layered, textured look and feel.
Furthermore, Jute is a great choice if you own pets! It's a fact of life: we all love our pets, but they can sometimes be a real pain in the rug. Whether they're shedding fur or leaving muddy paw prints behind, our furry friends can wreak havoc on even the sturdiest of floor coverings. But jute rugs are here to change all that. These pet-friendly rugs are durable enough to withstand even the most enthusiastic animal, so your favourite four-legged friend won't cause any damage to your jute flooring (and occasionally the two-legged as well). So if you're looking for something that will be a perfect fit for your home and your pet, look no further than jute.
With its sturdy fibres and stylish design, jute is truly the best choice for homes with pets and for infusing your space with natural charm and character.
Leather, hide, and sheepskin rugs are often seen as rustic pieces that are reserved for country homes or log cabins. However, these rugs can also be used to add a touch of luxury to any space. Leather and hide rugs are particularly well-suited for small spaces or awkwardly shaped rooms because they can be easily tucked into corners or draped over furniture. Sheepskin rugs, on the other hand, are perfect for luxurious layering. These rugs are incredibly soft and add a touch of glamour to any room. So, whether you're looking for a rustic piece or a touch of luxury: leather, hide, and sheepskin rugs can be a solution. However, mind the fact that they tend to spend and curl up on the edges over time.
Faux fur rugs have come a long way since their humble beginnings. What was once a cheap imitation of the real thing is now a luxurious alternative that is soft to the touch and easy on the wallet. Faux fur rugs are often made of acrylic and synthetic blends and are typically power-woven, meaning they are durable and long-lasting. Plus, they come in a variety of colours and styles to suit any taste. So if you're looking for a rug that will add a touch of luxury to your home, but on a budget, consider a faux fur rug.
They are a great and affordable choice for anyone looking to add a touch of style and function to their home. These rugs are made from durable and long-lasting polypropylene fibres, making them a great option for areas that experience high levels of foot traffic. Polypropylene rugs are also known for their ability to resist stains, meaning they can handle spills and messes easily. And thanks to the incredible variety of colours, patterns, and styles available, it's easy to find a polypropylene rug that perfectly fits your living room aesthetic.
They are made from either 100% polyester or a blend of polyester and other synthetic fibres. Microfiber is a synthetic fibre that is finer than most natural fibres. The term is used to describe a variety of fibre types including acrylic, nylon, and polyester. Microfiber is frequently used in home textiles because it is extremely strong, durable, and stain-resistant. When made into a rug, microfiber can be either hand-tufted or machine-made. Microfiber rugs are usually less expensive than wool rugs and they offer a wide range of design possibilities. Polyester is a synthetic fibre that is often used in blends with other fibres to create a variety of fabric types. Polyester is frequently used in clothing and home furnishings because it is wrinkle-resistant, colourfast, and easy to clean. Polyester rugs are usually less expensive than wool rugs and they offer a wide range of design possibilities.
Now that we have considered, shape, size and material it's time to look at different style options. Do you want a bold or muted colour scheme? What kind of pattern would complement your existing decor? Your rug choice should strike just the right balance between purpose and aesthetics!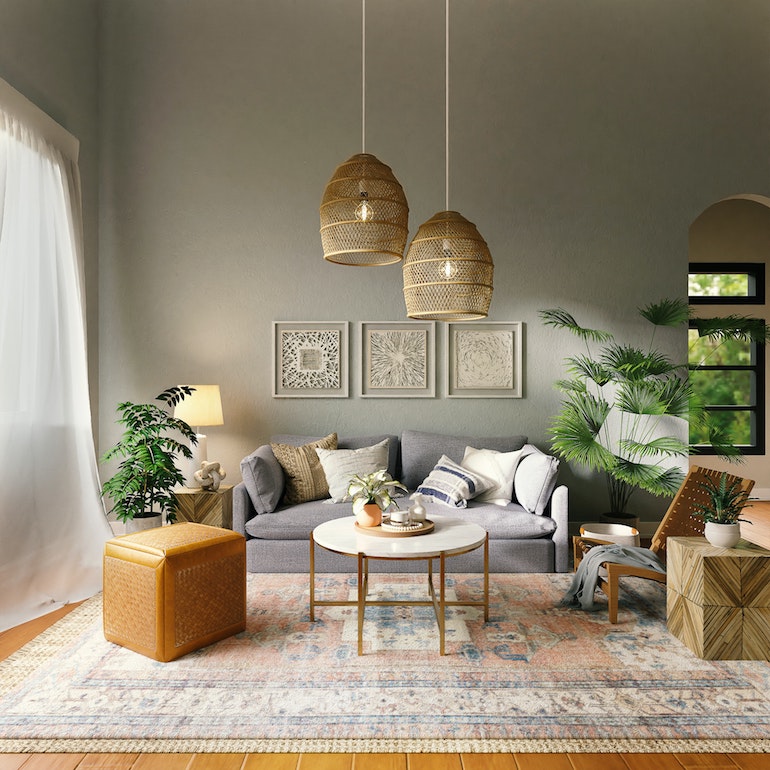 3. Interior Design Style
When choosing a rug for your home, it is important to consider your interior design style. Whether you prefer a sleek, modern look or a more elegant and traditional aesthetic, there are rugs out there that can help express your personal sense of taste.
For example, if you are drawn to clean lines and minimalist designs, a simple geometric pattern on a neutral background may be the perfect fit for you. Alternatively, if ornate patterns and bright colours express your style best, an intricate Oriental carpet could be the ideal accessory for your home. When deciding which rug is right for your living room, it is important to consider both function and style in order to create the perfect space!
If you are unsure about what is the Interior Design Style that expresses your personality and lifestyle, you could take inspiration from these Instagram accounts and, in the meanwhile, we could go through together some of the main interior design trends.
Minimalism and Rugs
When it comes to minimalist interior design, one of the most important decisions is choosing a rug that will complement the space and help create a clean and modern aesthetic. While there are many different styles and materials to choose from, many minimalists prefer rugs made from natural fibres or woven with minimal detailing. This helps to keep the focus on the décor and furniture in the room, rather than being distracted by busy patterns or bold colours. Given these preferences, a great choice for minimalists would be a handwoven wool rug in an understated neutral shade, such as taupe or off-white. Such a rug would not only look great on its own but could also be used to inject a touch of contrast into the space through careful styling and furniture placement.
Minimalistic rugs are typically made from neutral colours and natural materials. With their simple designs and minimal embellishments, these rugs work seamlessly with minimalistic furniture such as clean-lined coffee tables and streamlined sofas. Another great option for minimalism involves opting for textured rugs in understated monochrome hues, which help to add visual interest without being too flashy or overwhelming.
So if you're looking for the perfect way to bring minimalism into your living room, go for a simple yet elegant rug that won't overpower your sweet space.
Mid-Century and Rugs
When it comes to mid-century interior design, there is no one single aesthetic or material that reigns supreme. Rather, mid-century style is all about experimenting with different textures, colours, and patterns to create a look that feels fresh and unique. In terms of rug style, geometric shapes and vivid colours often work well in mid-century interiors. For example, a colourful Persian rugcan be the focal point of a living room, helping to inject some personality into an otherwise neutral space. Additionally, mid-century designs often embrace natural materials like wool and jute. These types of textiles bring warmth and texture to a room, while also radiating timeless appeal. Overall, the key to the mid-century design is experimentation – so go ahead and mix and match your favourite textures and colours to create a space that perfectly reflects your personal style!
Traditional
More than a trend, this is a classic style of home decor and it must be mentioned!
When it comes to traditional interior design, the right rug is absolutely essential. This style typically features bold patterns, traditional materials, and muted colours, so it is important to choose a rug that embodies all of these elements. In terms of materials, traditional rugs are often made from plush fabrics like wool or silk, which give them a soft and luxurious feel. Additionally, traditional rugs often feature intricate designs in rich colours like jewel tones and autumnal hues. Overall, the best style for traditional interiors is one that balances form and function, bringing texture and visually pleasing colours into the space without overwhelming it. Whether you prefer traditional florals or bold geometries, there is definitely a rug out there that will help you achieve your ideal traditional look!
Rustic Chic
There's nothing like coming home to a cosy, inviting living room that feels like a rustic retreat.
If you're going for a truly rustic look, then a jute rug is a great option. Because it is made from natural fibres, it has an earthy, natural look that fits perfectly with a rustic style. Plus, it's durable and easy to care for, which is always a bonus. Another great option is a wool skandi rug. It has a similar earthy look to jute, but it's also extremely soft and cosy, making it perfect for snuggling up by the fire.
When it comes to choosing the right rug for your living room, ultimately it comes down to personal preference. That is what Interior Design is about! If you are still looking for the style of Interior Design expressing the true soul of your home, this is also a recommended read: Interior Design Styles And The Rugs To Complement Them.
Ultimately, decorating is a matter of self-expression. Rules and guidelines are there to help you, but it is you that must give voice to your text through visual arrangements and pairing. However, research and visual inspiration always help (says a Pinterest addict).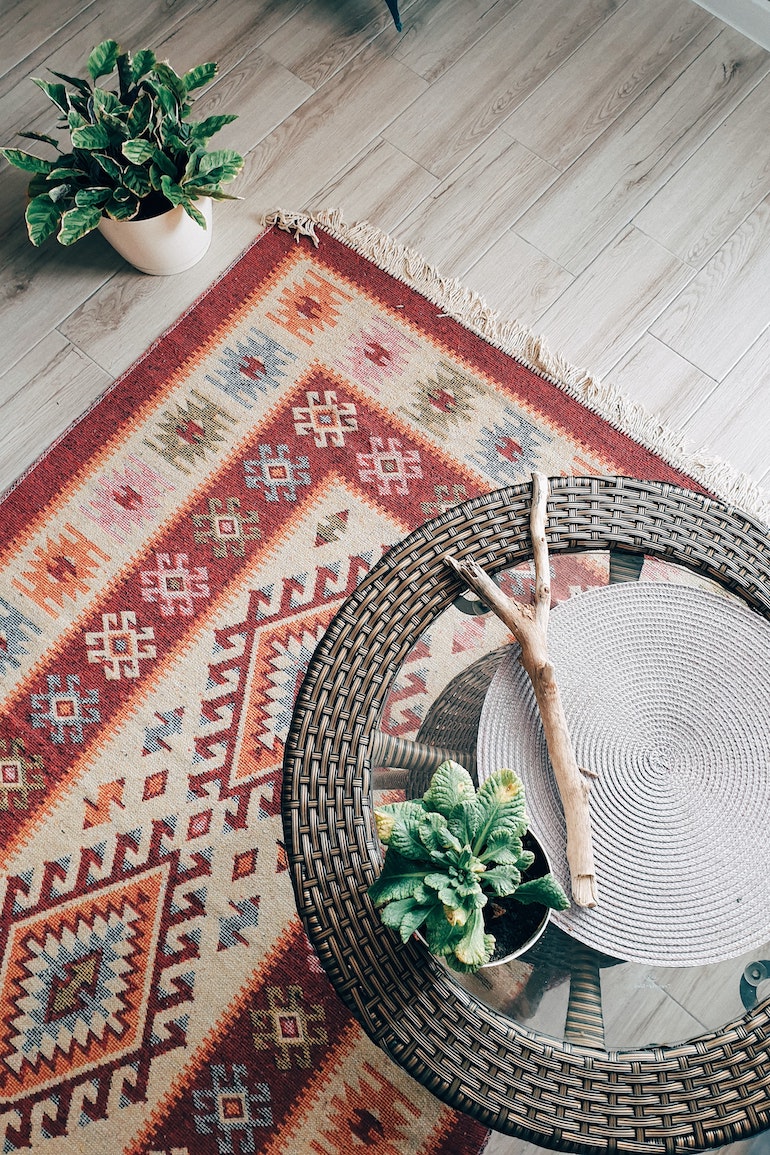 4. Budget For Rugs
When it comes to choosing a rug, budget is an important consideration. After all, there are many different rugs available and prioritising your budget in the decision-making process can help you narrow down your options.
First of all, it's important to consider that having a budget does not mean giving up quality. A high-quality rug is durable and will make you save money in the long run. On the other hand, if you do love rugs as much as I do, you know that rugs can be a status statement, and therefore you may be willing to invest in a breathtaking luxury rug.
Sometimes, however, budget limitations might restrict us to a budget rug and there is nothing wrong with that! You might be able to replace it later on when circumstances change. After all, better a budget rug than an empty, cold space!
Ultimately, you might care only about practicality and therefore might want to focus your budget on a rug that is easy to clean and versatile, such as a cotton rug.
Either way, to start shopping with a budget range in mind is a great idea!
One more thing to consider when shopping for a budget-friendly rugs online is free delivery. Some companies, such as Rug Express, offer this service to help you avoid unnecessary shipping costs. Additionally, look for companies that offer a satisfaction guarantee policy on their rugs, as this ensures that you can return your rug if you are not happy with it.
Moreover, some companies offer instalment payments with Afterpay, which is a great help when you are on a budget.
Lastly, consider the reputation of the company itself when making your final choice; after all, their good name may be worth the extra cost if it means getting the quality and customer service you deserve.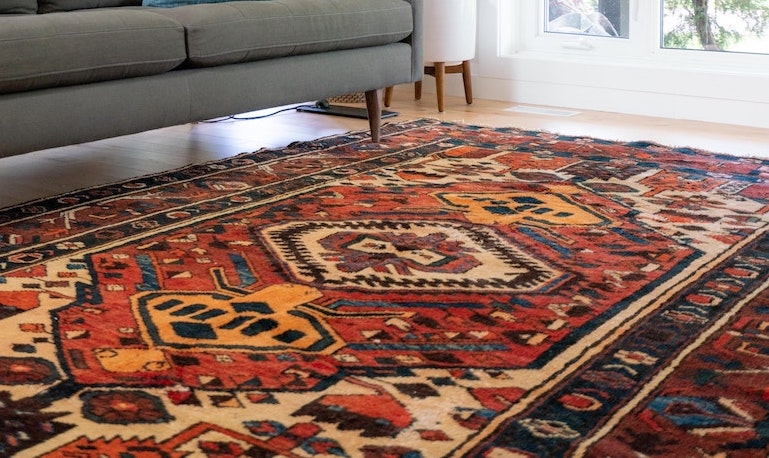 Summary
Shopping for a rug, it's like dating: it's easier when you know what you want.
In the end, once you've gone through these 4 essential considerations - size and shape, material, style and budget - you will be ready to start shopping for a living room rug with a clear idea of what you are looking for, saving you time and energy.
And if you need rugs not only for the living room but for other rooms of your home, such as the bedroom or the bathroom, I'd suggest you also read my article on the topic: How to choose the perfect rug for each room of your home.
Thanks for reading and don't forget to share this blog post: if it has helped you, it may help others.