Rug size matters! And spending a little bit of time measuring and researching before purchasing your rug is time well spent. Why? Because a rug that is too small for a room will look like it's floating and lost, while a rug that is too big will overpower the room and make it appear smaller than it is. The first step to choosing the right rug size is deciding whether you want your rug to be the focal point of the room or an accent piece. Once you have this design objective set, the fun part begins!
Rug Sizing Tips
A rug is the perfect finishing touch to almost any room, bringing warmth, balance and a touch of colour! Here are our tips for choosing the perfect sized rug.
Rule #1 – look at the size and shape of your room (or rooms) BEFORE you start browsing rugs online. This rule applies to purchasing furniture too!
Rule #2 – look at how your furniture is configured and decide how much floor space you want to be visible around the edge of the room. A border of at least 30cms between your rug and walls is recommended.
Rule #3 – use masking tape to mark out the outline of the rug size you are thinking of purchasing. This will help you visualize how it will look in the room and whether you need to size up or size down.
Rule #4 – before you fall in love with a rug, make sure it is available in the size you need!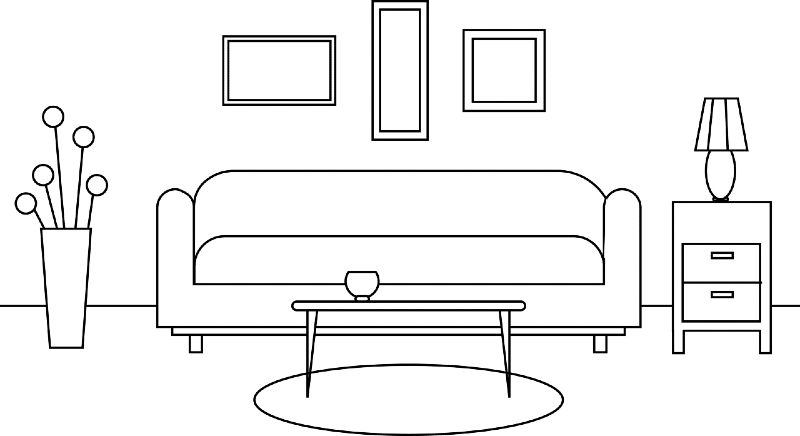 Room Types
Dining Room – your dining room chairs should be completely on the rug even when they are pulled out (this is mainly for safety reasons). Therefore, your rug needs to be approximately 120cm wider than the table. You can go for a rectangular rug or a round rug depending on the shape of your room and the shape of the dining table.
Living Room – a living room rug doesn't have to fill the entire room, but it should come into contact with your furniture. Place at least the two front legs of your couch (and any other chairs) on the rug. You can also opt to just have the coffee table on the rug to make the room feel larger.
Bedroom – there are generally two configurations for bedrooms. Either place the entire bed (and bedside tables under the rug) or place the rug under the bottom two-thirds of the bed. Runners on either side of the bed is a third option to consider.
Hallway – any furniture should be placed away from your hallway runner to avoid clutter.
Rug Sizes
Most rugs come in a series of 'standard sizes.' Standard sizes in Australia include (in cms):
120 x 170
160 x 230
200 x 290
240 x 330
300 x 400
Rugs Express has a no questions asked returns policy, but even still, we always recommend measuring at least twice before you place your order! And if you can't find the perfect rug in the size you want, you can always try layering.