Posted by Rugs Express; Australia's Number One Online Rugs Retailer on 5th May 2022
How to Choose the Perfect Rug for Each Room of Your Home
The ultimate guide to rug decor based on function and purpose.
Shopping for rugs can be difficult and time-consuming: but if you read this comprehensive guide, you'll know how to make the right choice.
Shopping for a rug is more challenging than people may think - especially for those who normally do not take on the responsibility of decoration (like my husband, haha). And yet, it is such a game-changing aspect of a home's interior direction! Choosing a rug wisely will bring aesthetic coherence and distinction to a room. On the other hand, if you buy a rug that doesn't integrate well, it will clash and ruin the overall feel and harmony you were trying to create, and you will end up regretting the purchase.
Regretting a rug purchase can be quite depressing, especially if we went for a top of the range, pricey rug such as traditional, majestic Persian - which are terrific by the way, but they are an investment, and therefore require a bit of research and awareness before deciding whether fits your interior design needs. If you're like me, the mere thought of shopping for a new rug fills you with anxiety. It's such a big purchase - what if I don't pick the right one? What if it doesn't match my décor? Most of all, you don't want to give the hubby the satisfaction of smirking at you as in "of course, you make impulsive purchases and then you regret them".
Well, fear no more!
Today, I'm going to share some essential considerations to keep in mind before buying a rug, coming from my extended experience as a Pinterest addict, an interior enthusiast (or perhaps I should dare say connoisseur?) and one who works in the Arts Industry. Naturally, I've learned a lot from my mistakes. But also by asking great, professional interior designers for help in fixing them, so you are in good hands here.
Now, because I don't want you to regret your purchase later on, sit back, relax, and let's get started with this Rug Decor Ultimate Guide to impress friends and family with your sharp sense of taste and practicality ;)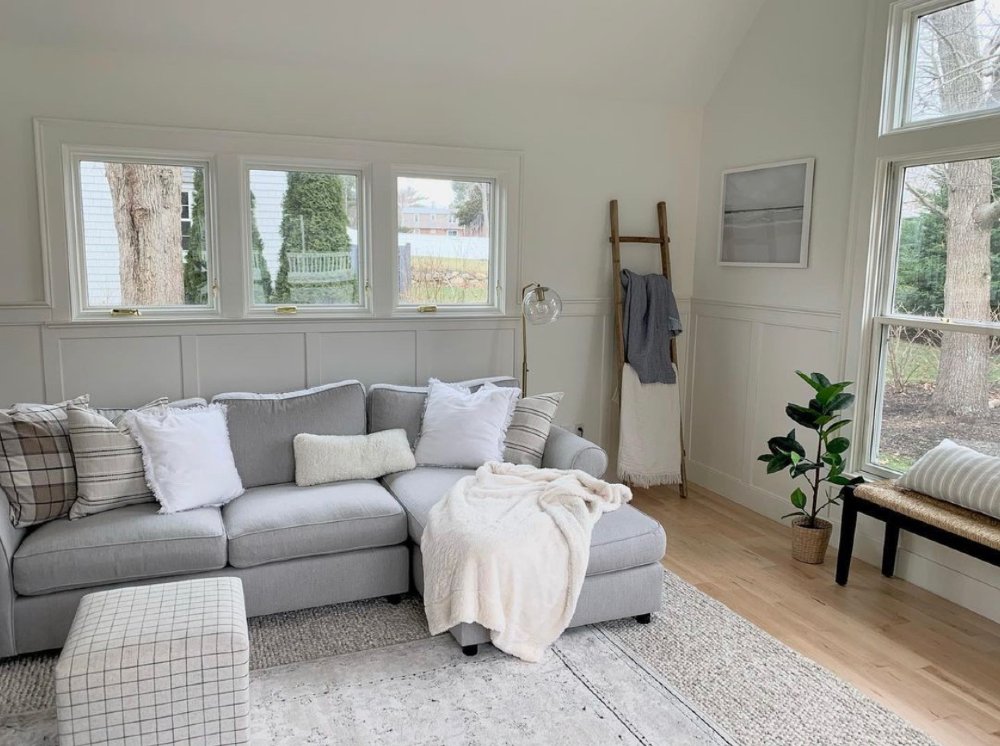 The Purpose of a Rug
Rugs, like us, are also looking for meaning and fulfilment!
Rugs are not there just to be pretty - well, aesthetics is definitely a big part of their function, but there is more to it you should consider. As per sofas and other large furniture, rugs daily interact with us, not just by their appearance, but especially because we stand on them all the time.
Like you wouldn't choose an uncomfortable couch or a bed that makes you wake totally wrecked, you don't want the wrong rug in the wrong place (like a slippery, small rug in a high-traffic area, that makes you fall over when you are in a rush to pick up the kids from school).
When you enter the magic world of rugs, you will see that the variety (especially at Rug Express) is overwhelming: they come in different colours, patterns, textures, materials and styles. But when choosing a rug, it is important to consider first its placement and therefore its purpose. For example, a living room rug should be large enough to anchor the furniture, while a kitchen rug should be durable and easy to clean.
Let's see some key functions for each rug based on its location.
Entrance Door Mats
Doormats are to prevent dirt and welcome in.
When it comes to choosing an entrance doormat, there are two main purposes to address:
1. Preventing dirt and grime to be brought inside
Dirt and grime that will potentially be brought in on people's shoes. This dirt can damage floors or other surfaces if not removed quickly, so it is important to find a doormat that effectively traps dirt and prevents it from being transferred elsewhere.
2. Absorbing moisture
2022 has been a wet year on Australia's east coast. Whoever overlooked the importance of a performing doormat able to effectively wipe wet shoes, had to think again. Doormats are often overlooked but indispensable parts of any home. Only quality doormats can help absorb excess moisture - protecting your floors from water damage and mildew growth.
3. The durability of the material
Life is too short to keep having to replace your doormat. How many times have you walked through your doorstep and thought "my doormat looks gross, I should buy a new one"? It's just extra stress we want to avoid. When it comes to selecting a durable doormat that is specifically designed to remove dirt and mud from shoes the most important quality is the material.
Many low-quality mats use weak materials, which simply can't handle the heavy scraping and moisture exposure that they are subjected to on a daily basis. Instead, it is best to go with a mat made from more durable materials, such as plastic, rubber, polypropylene and nylon. Another key consideration is weave quality: mats that have a raised weave pattern or feature heavy-duty bristles are best able to wick away grime and trap dirt.
In short, you want a mat that can really stand up to extensive use and won't break down too quickly due to moisture exposure. So if you want the very best doormat for removing dirt and mud from your shoes, be sure to choose one that uses top-quality materials and has a sturdy weave pattern or heavy-duty bristles.
4. The welcome to the house.
If you, like me, care about details, you know that a doormat is like a firm handshake or a winning smile: it's one of the first things people notice when they come to your home. That's why it's important to choose a doormat that is both durable and attractive. Although there are many different materials available, natural fibres like coir or sisal are good choices for a doormat to ensure durability and pleasantness at the same time! They are tough enough to withstand heavy foot traffic, but also have a softer appearance that will complement your home's style. Natural fibres are also environmentally friendly, which is another plus!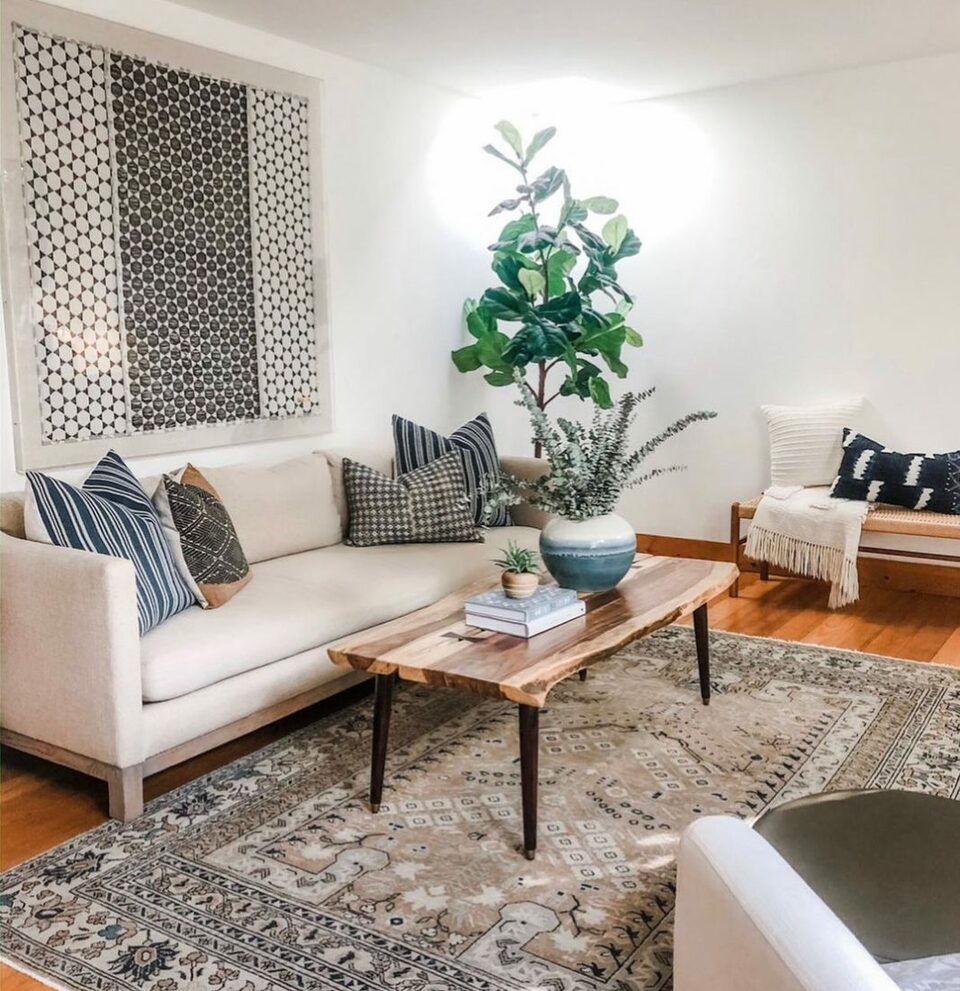 Hallway Rugs
Runners protect the floor and provide guidance.
While the hallway rug may seem like a simple, decorative piece, it serves many purposes:
A hallway rug, or a staircase rug, acts as an important guard against slips and falls;
Hallway rugs and runners protect your floor from dirt, scuffs and general wear and tear
Runners add interest to the hallway while providing visual guidance;
Hallway rugs help muffle the sound of footsteps and absorb vibrations from the floor below
Rug Express offers a great variety of runners that come in a wide variety of colours, patterns and textures - so how are we supposed to choose one that fits its purpose and our home style at the same time?!? Here are 4 tips that will help you to narrow down the options.
1. Measure your hallway
When it comes to hallway runners, one of the most important factors to consider is the dimensions. Hallway rugs come in many different shapes and sizes, and a hallway runner that doesn't fit well can negatively impact not only the appearance of your hallway but also its functionality. Whether you're looking for a short runner to fit snugly at the foot of your hallway or a long runner to cover the entire length of your hallway, you need to make sure that you choose a runner that has dimensions that match up with your hallway's unique size and shape. So before you begin shopping for hallway runners, take some time to measure your hallway so that you can find a runner that perfectly fits its dimensions. With the right hallway runner, your hallway will look great and work like a charm!
2. Choose a rug with the right thickness
In general, the ideal weave density of a runner depends on what type of flooring you have in your home. For example, thick weaves work well for thick wooden floors, whereas thin ones tend to look better on stone or tile floors. On the other hand, runners with lighter weaves may be more appropriate for carpeted floors, as they help to camouflage any footprints that get left behind. Ultimately, the best weave density is one that perfectly complements your specific floor type and adds visual interest while still providing traction and comfort underfoot.
3. Match your home decor style
As you know, first impressions are everything. This is especially true when it comes to style-conscious homeowners, for whom a hallway is often the first glimpse into the overall design aesthetic of their home. As such, it's important that this space sets the right tone. If the architecture of your home is formal, for example, you might want to consider a runner with a traditional design. On the other hand, if your home has a more contemporary feel, you could go for something bolder.
4. Do you need a hallway rug or runner?
That's a good question and the answer is: not necessarily. It isn't a fixed rule to have a hallway runner. Indeed, Rug Express wrote a blog post about this topic. If you are in doubt about whether a hallway run is indispensable for you, I recommend you to read this: does my hallway need a runner?
Ultimately, your home decor is the expression of your sense of taste and style. Something you do not want to fail. If you are unsure of what your style is in the first place, don't worry. It is completely normal! Tastes can be complex. Unifying all our preferences in a style that is cohesive and immediately communicates who we are, has been an artist's and designer's headache for centuries! So don't despair, the best way to start defining your own is by doing research on what's out there. Perhaps you can start with this article from House and Garden UK: https://www.houseandgarden.co.uk/topic/decoration.
Living Room Rugs
Living Room rugs define the most central room of your home.
I personally think that a living room is not a living room without a rug. It's like having a dining room table but no chairs. Or a bed but no sheets. There are orthodox minimalists out there who prefer an empty living room and having tea on the floor. I also consider myself a minimalist. However, my minimalism is reducing everything to the greatest level of functionality and comfort.
A living room rug can serve many functions, also depending on the value you attribute to the living room, the frequency of usage, and also the space itself (is it an open space or a separate room? Is it large or cosy? You get the gist).
Generally speaking, a living room rug:
Adds texture to the room.
Defines the seating area.
Protects the floor.
Absorbs sound (especially if you have kids-cross-kangaroos jumping around).
It feels good underfoot and provides you with the chance of having a romantic picnic on the rug and who knows what that could lead to (better to consider any type of situation, if you know what I mean)
But most of all, as The Dude would say, it really ties the whole room together.
Living room rugs come in many different styles, from Modern to Traditional, and they can be made from a variety of materials, from Wool to Jute. But beyond material and style, all living room rugs contribute to making your living room feel like, well, a room to live in!
Here are some Do's and Don't about choosing a Living Room rug that really serves its purposes.
1. Do let the rug be the protagonist.
Rugs can make a huge impact in any room, whether they're used as a focal point or a supporting element. However, I personally believe a living room rug should be the true protagonist of the space. To achieve so, the easiest way would be to start with the rug and then build the room around it. This way, you can choose a rug that really steals the show.
But even if you already have furniture that you want to keep, your living room rug should not settle to be just a minor supporting element. Make sure your rug is the masterpiece of the room by selecting a rug that really elevates and enhances the furniture and the palette in place - either by analogy or by contrast.
For instance, if you have a neutral, minimalistic colour scheme, a way to make your rug win the Oscars, is to choose an ornamental, luxurious, magnificent traditional rug - such as a majestic Persian. Not surprisingly, traditional rugs were historically used to highlight areas of social gatherings, by making the guests feel welcome and at ease. If you want to know more about Persian rugs, "What is a Persian rug?" can help you clarify what are the unique perks of these types of rugs.
Ultimately, however, your living room's rug should make a statement about your home decor style and therefore it's important that you choose a rug that, yes, stands out, but also doesn't clash with the rest of your furniture.
2. Do Consider what surface is beneath the rug.
When it comes to choosing the perfect rug for your living room, you need to think about the flooring. What kind of flooring do you have? Is it light or dark timber? Modern or traditional? These factors will play a role in what kind of rug style will work best in your living room. For example, if you have a light timber floor, a grey or white rug would be a good option; with hardwood, on the other hand, a bit of colour contrast may be the solution. With a carpeted floor, instead, you should choose a rug with complementary or matching colours, but that also well balances the thickness and texture of the carpet.
3. Don't buy a living room rug that is too small.
Does size matter? I can't answer for other things, but in regards to living room rugs, I'd say yes, the bigger the better (in agreement with the size of the room, of course!).
Anyone who has ever shopped for a rug knows that the larger ones can be expensive. So, it's no surprise that many people try to save money by opting for a rug that is too small for the space. This is a big mistake and I've made it too. While it may seem like a small rug is a good way to save money, it actually has the opposite effect. A rug that is too small will make the room feel unbalanced and unfinished (and worst, tacky).
A large rug that anchors the furniture and outlines the whole sitting area, will make the space feel more inviting and pulled together. So, if you're trying to choose between two sizes, always go with the larger option. Trust me, it will be worth the extra expense when guests will be in awe of your living room!
4. If you're layering, Don't make it messy.
Rug layering is a trend that's taking the interior design world by storm, and it's easy to see why. Not only does it add visual interest to a space, but it can also help to protect your floors from wear and tear. Plus, it's a great way to experiment with different colours and textures. However, it's easy to go from the charm of a Picasso layering style to the mess of a 3-year-old collage.
If you're thinking of giving rug layering a try, this Rug Express blog post is a must-read: Layering Rugs.
Dining Room Rug
Dining Room Rugs bring an accent to the dining area and comfort while you're eating.
In Interior Design, whether a rug belongs or not to the dining room area, is still an open debate. However, if you, like me, believe that a room feels characterless without a rug, including the dining section, it is important to consider not only the aesthetical aspect but the functionality as well.
And the main purposes of a dining room rug are:
1. Highlight the dining table;
This is quite important. If you think about it is where the whole family gathers and you don't have to belong to an Italian family, like me, to value the bonding power of food between relatives (pets included).
2. Protect the floor from spills
I hear you saying: "that might be good for the floor but who is going to protect the rug from my 2 years old twin nephews? Or from my Saint Bernard overactive salivation at the sight of food?
Well, the answer to this question is, to choose an easy-to-clean rug! The best rug material to place under a dining table is Wool or Polypropylene, or, why not, even an Outdoor Rug. When it comes to durability, ease of cleaning, and softness, wool and synthetic materials like polypropylene are your best bet. And if you own a (stained) dining room material already, don't despair, have you tried this rug cleaning hack?
3. Keep your feet warm
If you are the mistress of a barefoot house, you know how nice it is to rub your feet on a cosy rug while sitting at the dining table. In this regard, Wool remains the king material.
Another consideration to make is whether your living room area and dining room are adjacent (like in a small open space area). In that case, it would be more noticeable if the rug were clashing with each other; and therefore a well-thought pairing would be even more important.
Kitchen Rug
A kitchen rug provides softness while cooking.
"A kitchen rug sounds lovely, but what am I going to do about the spilling and the wet on the floor?" I hear you asking. Coming from a person who constantly prepares highly staining food from scratches (like my insuperable cherry tomato passata) while sipping and swirling a glass of red wine, the answer is simple: pick the material that fits your kitchen usage (whether is "I only order take away" or "I want to teach my kids to make fresh-made egg pasta").
First, you'll want something that is durable and easy to clean. Second, you'll want a material that won't slip on wet floors. And lastly, you'll want something that will add a bit of comfort to your kitchen. With all of these factors in mind, I suggest the best materials for a kitchen rug are
Jute is a natural fibre that is both durable and easy to clean. It also has a non slip surface, making it ideal for kitchens. And because it's a natural fibre, it adds a bit of warmth and comfort to the room. So if you're looking for the perfect kitchen rug, we recommend giving jute a try.
As we said, Wool is cool and easy to clean. A dark colour palette will also show fewer flaws in between thorough cleanings.
Cotton is a good choice for a kitchen rug, especially if you pick a size that fits right into your washing machine.
Bathroom Rugs
A quality bathroom rug honours the most important room of your domain.
If you're anything like me, your bathroom is one of the most important rooms in your house. it's a place where you can relax and unwind after a long day, and it should be a space that reflects your personal style. Well, personally, the bathroom is my escape from chaotic and loud family life (let's just say my bathroom is for me what the bat cave is for batman). Plus, having a cosy, clean, pretty bathroom is one of my pride and stand out points to impress guests and enjoy my self-care time.
When it comes to choosing the perfect bathroom rug, there are a few things you'll want to keep in mind. First and foremost, the function is key:
Bathroom rugs protect against cold bathroom floors;
Bathroom rugs help to absorb excess moisture, preventing the growth of mould and mildew on bathroom surfaces;
Bathroom rugs provide traction in wet areas, reducing the risk of slips and falls in the bathroom;
There are many different types of bath mats out there, each one with its own unique set of properties. Some are made from bamboo or teak wood, for their moisture-wicking and hypoallergenic qualities. These materials are perfect for keeping bathroom floors dry and clean, so they're a popular choice for those who suffer from allergies or foot conditions.
Because the bathroom is a wet and often slippery area, you'll want to choose a material that is easy to clean and won't show dirt or stains. Wool is an excellent choice for bathroom rugs because it is durable and has natural water-resistant properties. Persian and Afghan rugs are also good choices for high-traffic areas like the bathroom because they are made of tightly-woven wool fibres that can withstand a lot of wear and tear. Another thing to consider when choosing a bathroom rug is the size of the space. If you have a large bathroom, you may want to consider using a runner or an oversized rug to visually "break up" the space. However, if you have a small bathroom, a smaller rug placed in front of the sink may be all you need.
Another option is cotton. Cotton fibres are naturally strong and soft, which makes for sturdy bath mats that feel extra cosy and fluffy underfoot. For an even softer option, you might consider microfiber – it's incredibly plush, making this material a great choice if you want to sink your feet into something super luxurious.
No matter what material you choose, the most important thing is that you don't overlook the bathroom and that you surprise and amaze your guests (as well as your family), by not placing your a low-quality bathroom mat as they would expect, but a luxurious rug that is as comfortable as walking on a cloud.
And watch their reaction.
Bedroom Rugs
Bedroom rugs bring extra comfort and warmth to the room that is dedicated to relaxation and deep rest.
A bedroom is a person's temple: is a "sacred" space that leaves all the stress behind and just rests. Therefore, bedroom rugs' main function is to support bedrooms' intimacy and comfort. In particular, functional bedroom rugs should:
provide a comfortable surface for walking and keep feet warm and cosy;
enhance the aesthetic of the bedroom by adding colour and texture to the space.
absorb sounds and help create a quiet atmosphere conducive to restful sleep (as much as when you come home from a girl's night you don't want to wake up the kids, your partner, or even your dog while sneaking into bed)
protect floors from scratches or other damage.
Here are some suggestions if you are looking for a bedroom rug that fulfils its purpose:
A bedroom should be a cosy and inviting space where you can relax and rest, and one way to add cosiness is with a shag rug. Shag rugs have long been a popular choice for bedrooms because they are soft and comfortable underfoot, and they add a touch of luxury. Plus, they come in a variety of colours and textures to suit any style. And if you're worried about upkeep, don't be: shag rugs are easy to care for and can be vacuumed or shaken out on a regular basis.
Skandi rugs are made from the finest organic natural fibres, including wool, viscose, and cotton. Each type of fibre has its own unique benefits, making Skandi rugs a versatile and stylish option for any home. Wool Skandi rugs are especially popular, thanks to their ability to retain heat and resist dirt and stains. So if you're looking for a cosy and stylish way to keep your bedroom floor warm, a Skandi style rug made from wool is a perfect choice.
Jute rugs are an excellent choice for a bedroom, especially if you share it with your pet. With its neutral hues and classic design, this type of rug provides a timeless look that is perfect for any coastal bedroom. Because it tends to be more casual than other types of bedroom rugs, sisal is an ideal choice when you want your bedroom to feel relaxed and breezy. And unlike many other types of bedroom rugs, a jute rug won't show dirt or dust easily, making it a great choice if you have pets or small children.
Kids Rugs
Kids rugs save the floors, they make it a perfect play area and provide extra cushioning.
Whether you have a rambunctious toddler or a boisterous pre-teen, it is very helpful to have a rug that can stand up to even the toughest of kids. With features like soft yet durable materials, non-slip backing, and playful designs, kids' rugs are expected to be:
great at holding up to not just everyday wear and tear but also roughhousing and other shenanigans;
effective in providing protection to your kid when he is playing like crazy, especially if there are hard floors underneath ;
effective in protecting the floor from the kid (!);
soft and pleasant to sit on;
but most of all, absolutely fun!
When you have kids, every room is a kid room! By having kids' rugs strategically positioned in the main room of the house, your children will always have a dedicated playground area that is fun, comfortable and cute. If you remember being a kid (some of us have forgotten we were little rascal monkeys not long ago!) you probably also have a memory of your favourite rug. It's simply something you cannot dismiss!
When choosing a kids' rug, it's important to keep their age and interests in mind. For younger children, look for patterns and designs that capture their imagination, such as building blocks or their favourite characters from cartoons or films, or perhaps their favourite animals. For older kids, consider more sophisticated patterns or funky geometric shapes to make them feel like they're living in a grown-up space. Whatever rug you choose for your kid's bedroom, rest assured that it will be a fun addition that helps set the tone for their precious space and make them feel very special!
Rugs For The Outside Area
Outdoor rugs help to make the outdoor area feel cosy and an equal part of the rest of the home.
Do you have a nice terrace? Or a large patio that you would like to use more often? Adding an outdoor rug to your al fresco area is the best way to attract attention to the outdoor space and invite family and guests to actually use it.
But are outdoor rugs the same as living room rugs? They can be. However, my suggestion is that, when choosing an outdoor area rug, you also look into its practicality:
While these terms seem fairly self-explanatory, outdoor rugs, as the name suggests, are designed for use outdoors. They typically have a more durable material such as canvas or plastic that is resistant to wear and tear from exposure to sun and moisture.
If you're looking for an outdoor rug that can withstand the toughest conditions, then you need to look for one that is:
UV stabilised;
Mould and stain-resistant;
Fade-resistant.
These are just some of the key attributes of a high-quality rug that will serve you well no matter what Mother Nature throws at it (as if it has another La Nina hanging over our summer!). Whether you're dealing with sun, rain, or snow – and all the dirt and debris that comes with them – your rug should be able to stand up to the test. So be sure to look for a rug made with durable materials like nylon or polypropylene for optimal longevity and resist any fading caused by sunlight exposure.
In short, when it comes to selecting an outdoor rug, seek out quality and resistance above all else! After all, what use is a rug that starts to disintegrate after just a few months? You need something that can hold up against the elements year in and year out! Choose wisely and your rug will last as long as your outdoor oasis itself. Trust me – you won't regret your decision!
Rugs For The Home Office
An office rug brings importance and authority to your workspace
During pandemics, we have learnt that, in the majority of the cause, working from home is not only possible, but it is also actually better. Yes, it was revolutionary, but it turned out that spending hours angrily commuting in the traffic is not as efficient as we thought and working from home has its mysterious perks - such as feeling better and less stressed!
As you might have grasped from this introduction, I am a huge fan of working from home. That is why I consider making space for a home office that actually feels like a separate space, even if just a desk within the living room, is psychologically important: it is still working after all!
And because working is not always fun, although the same saved from looking for parking makes it already a great start, having a nice rug is important for two reasons:
1. An office rug makes the office feel like an office;
2. Provides comfort - especially if you are working barefoot;
When it comes to choosing a rug for your home office, there are a few things you'll need to take into account. First, think about the size of the space. You'll want to make sure the rug is big enough to anchor the space, but not so big that it feels overwhelming, or clash with the rest of the room's balance. If you have a small space, let's say, within your bedroom or an open space living room, a round rug could be just what you need!
Second, consider the style of your office. If you're going for a more traditional look, opt for a rug with a classic pattern. If you're going for a more modern aesthetic, try something with a bold geometric design. And finally, don't forget to take into account the colour scheme of your space. You'll want to choose a rug that complements the other furnishings in the room but also that invites focus and concentration. If you are looking for more insight about choosing the perfect rug for your home office, this article will also help you define what you need: " Rugs for the home office".
Should all my rugs match one with another?
Is "rugs pairing" a thing like food with wine?
This is an excellent question and if you've thought about it already, well, cheers to the inner interior designer within you!
The idea of rugs all matching it's appealing - I give it to you. After all, it feels so clean and orderly to create a cohesive look in your home with matching rugs on every floor, in every room. But in reality, there are many good reasons not to follow this rule too strictly. For one thing, different rugs often have very different characteristics and functions that can be used to great effect together. A shiny silk rug layered over a rustic woven rug, for example, can add visual interest and texture to any room. In the end, the best approach is to see rugs for what they really are: unique works of art that have an aesthetical and practical purpose to fill, depending on their placement and what matters to you about each room.
However, it is also true that the rugs in your home should tell a story. They should be like a good novel, with a beginning, middle, and end. And, just like a good novel, they should all complement one another. They should flow together like a well-written sentence. After all, you don't want your rugs to be like a run-on sentence, do you? Instead, you want them to be like a well-crafted paragraph that tells a cohesive story. So, when you're choosing rugs for your home, make sure that they at least all work together to create a unified look.
Here are a few tips:
1. The closer the room, the closer the matching should be;
For instance, the living room and dining room are often close to each other and therefore it is nice to have a seamless transition between the two by choosing complementary rugs;
2. Stick with a similar colour palette;
If you want a cohesive look, it's best to choose rugs that have a similar colour palette. This doesn't mean they have to be the same colour, but they should complement each other harmoniously. For example, if you have a rug with predominantly warm, reddish tones in your living room, you might choose a rug with analogous tonalities for your dining room.
3. Refer to the style of your overall interior design;
Just as you wouldn't wear shoes that clash with your outfit, you shouldn't choose a rug that clashes with your interior design. The style of rug you choose should be in keeping with the overall style of your home; stuffing rooms with warm Persian rugs may look a bit out of place in a contemporary coastal apartment with a cold colour palette and a breezy, shabby feel, for example.
4. Make the rug texture the main leitmotiv;
Anyone who has ever stepped on a rug knows that they come in a variety of textures. From the soft, fluffy piles of a shag rug to the short, tight loops of a Berber rug, there is endless variety when it comes to rug texture. However, many people make the mistake of mixing and matching different rug textures in their homes. While it may seem like a good idea to mix things up, the reality is that different rug textures can clash, creating an unsightly and uncoordinated look. It's best to stick with rugs that have similar textures to create a more cohesive and pulled-together look.
Summary
Take away points to always choose the right rug;
I understand that when it comes to shopping for rugs, it can be easy to feel overwhelmed by all the different options available.
Picking the right rug ultimately comes down to three primary considerations:
Rug's purpose;

Rug's placement;

Home Interior Style;

The perks of the company you are buying the rug from;
First, you need to decide what the main purpose of your carpet is: do you want the rug to make your home look expensive? Do you just want an easy-to-clean rug to protect the floor? Something in between? It's important to have this aspect clear before even moving to size and materials.
Second, you need to think about where you want to place the rug. Is it for a high-traffic area like the living room? Or is it for a more low-key space like the bathroom? What is the floor you are placing it on?
Third, when choosing a rug, it is important to consider your style of decoration. Some people prefer a minimalist approach, with simple lines and neutral, clean colours. If you are an analytical, hyper-organised person, minimalism might speak to you and therefore a rug in shades of grey or white may be a perfect choice because it brings a sense of order and clarity. Alternatively, if you are a bubbly, passionate, spontaneous individual, you might find mid-century decor fascinating and therefore gravitate towards bold patterns and bright colours. As Mid-century modern interior design is characterised by manmade and natural materials in vibrant, eye-catching colours, a natural fibre rug with colourful geometric motifs would be just perfect! On the other hand, if your home decor is inspired by a Scandinavian interior aesthetic, utilising a blend of cool textures and soft hues to create a cosy and inviting feel, the use of plush, wool Skandi would add even more warmth and comfort.
Whatever is your favourite interior design style, the trick is to choose a rug that compliments your overall aesthetic, while still allowing the rug to stand out as a focal point in the room. So think carefully about the style of your decor before choosing a rug that satisfies both form and function. After all, the last thing you want is for it to clash with the rest of your home!
Ultimately, when you buy a rug it is vital (trust me, I know by experience) to choose a company that offers you all the support you need - in terms of interior design expert advice but also free shipping (and free returns!). It happens to buy a rug that is the wrong size, or that doesn't fit your space the way you pictured it. Thus, a company that allows you to return a rug, no question asked, is a huge help for a stress-free shopping experience (which is all a girl wants, right?) Rug Express, for instance, understands that sometimes we like to be able to touch and feel a product before buying and that's why they offer a 100% Satisfaction Guarantee.
To wrap it up, there are many factors to keep in mind when shopping for a carpet. I hope this guide has helped to clarify what you want from a rug, before diving into the infinite marasmus of options. If you are interested in other practical tips about choosing a rug, including size and materials, you should read this: 3 essential considerations when purchasing rugs online.
Before I let you go, I'd like to thank you for your attention and I wish you a happy shopping!